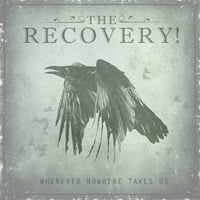 £

5.00
Our new EP 'Wherever Nowhere Takes Us.'
Order now and get it for £5 and FREE SHIPPING WITHIN THE UK!
'Borrowing some mighty groove and swagger from across the Atlantic like Every Time I Die, these Scottish lads are here to pummel you senseless with their deranged party hardcore. With debut EP 'Wherever Nowhere Takes Us' out in February, they'll be fuelling unhinged parties outside of sunny Glasgow soon. And you know what? It sounds like a party we really want an invite to.'
- AMR (Rock Sound Magazine Feb 2013).
'Twisted and jagged, all five tracks here snap and snarl viciously, the level of reckless aggression constantly maintained while they practically trip over piles of seductive hooks. From the mean-as-hell Krokodil to Sick... & Tired and the anti-anthem My Name Is Bad News they impress at every turn. In making an EP that sounds like Challenging everyone in the pub to a fight at once, The Recovery! have made a fine start here.'
- Dan Slessor (Kerrang! Magazine Feb 2013).
'Glasgegian metalcore quintet unleash impressive new EP.
This five-piece are fairly new on the scene, but this EP is a great indicator of their potential. Music-wise, they're not a million miles away from Every Time I Die, but as a metalcore band, there can't be many compliments better than that. It's definitely been done before, but who cares when they sound this good? They've made a great move by keeping the tracks short but sweet. Each song makes an impact, but 'Taking Care Of Business...' is particularly good, mixing hard hitting rage with melodic vocals. If The Recovery! carry on this way, they could go far.'
- Lais Martins Waring ( Big Cheese Magazine March 2013).